choThe Vampire Diaries fandom got some shocking news this past week when Nina Dobrev announced she would not be returning to the series following the end of the current season. Due to this announcement, I decided to find some short fan fiction stories about Nina's characters.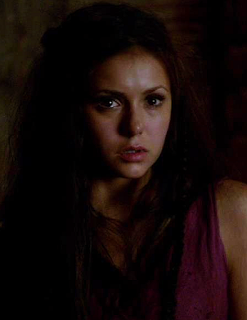 Going in chronological order, we begin with Amara. The fan fiction "Their Happily Ever After" by Gohstwriter is a 500 word short in which the author tells the reader their take on the deaths of Silas and Amara. Starting with their death it winds down to their reunion in the after life. You can read it here.
Up Next is Tatia, the love of both Klaus and Elijah. I read the fan fiction "Possession" by Albion19 and I found this short story very interesting. In an attempt to summon Tatia, Elena is briefly sent back into Tatia's body, and Tatia inhabits Elena's body. This story is a little under 4,000 words and gives an interesting look at Tatia's life and a little bit of Elijah as well. Click here to read this story.
The next is fic about my personal favorite of the dopplegängers, Katherine. "Used by You" by Lelderkin is a story about Katherine's arrival in Mystic Falls.
This story does not fail to capture Katherine at her finest and by finest I mean most mischievous. She poses as Elena and goes out of her way to encounter both Stefan and Damon. I think this one is a fun one with a little drama. Read it here.
Lastly I found a story about Elena. It's called "Likeness" by simply-aly. In this story, Elena analyzes the similarities between Katherine and herself. It's interesting to see this author's take on Elena but it also shows where Elena was at in her thinking at one point comparatively to where she is now on the show. I think what is also interesting about this is while Elena is thinking about how she is like Katherine in the way she treats the Salvatore brothers, Katherine makes a good point about how to choose. This story can be read here.

Saying goodbye to these characters completely before the show came to an end was not really something this fandom could have expected. Nina Dobrev and all of her amazingly developed characters will be missed.